Site Map & Park Policies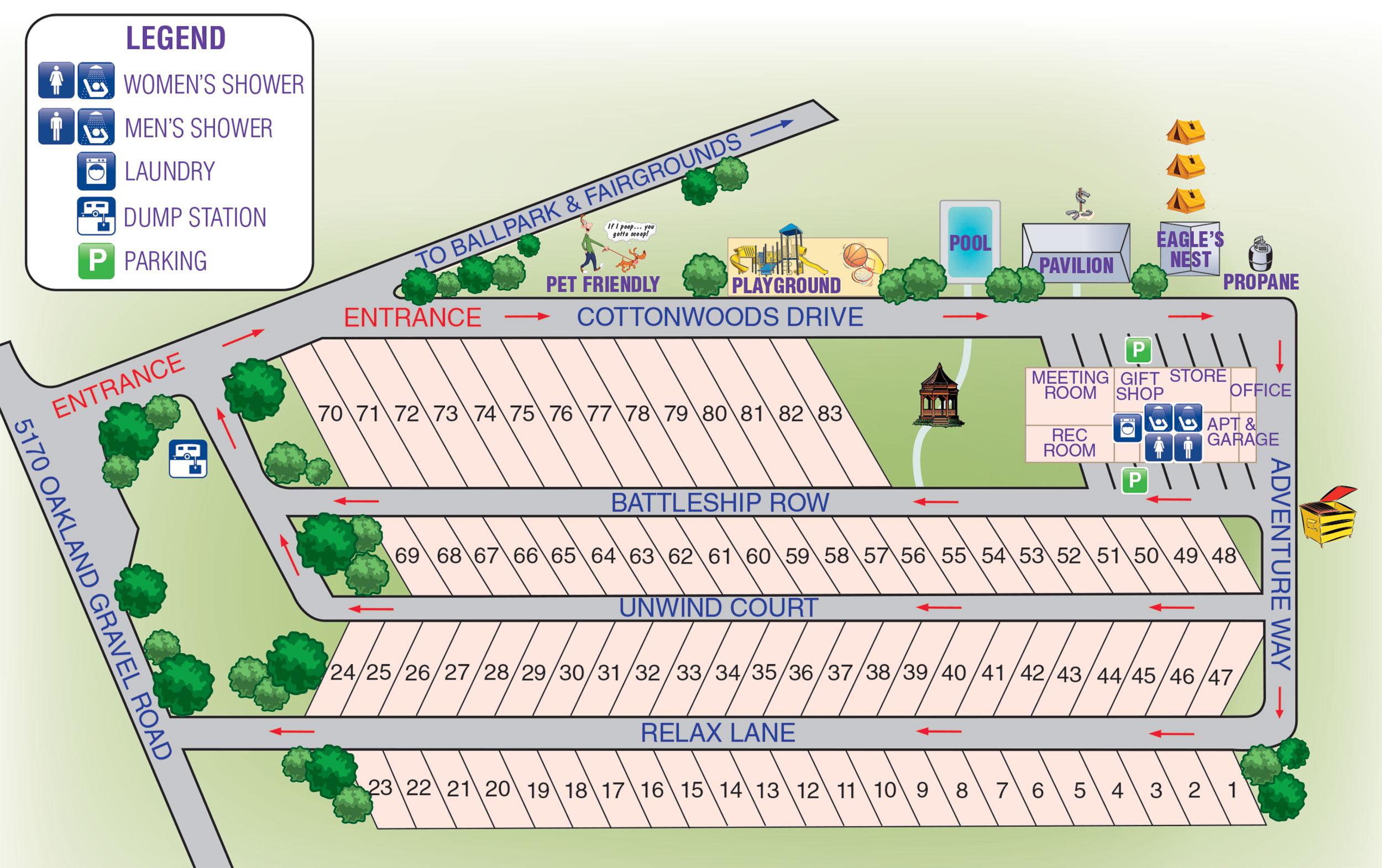 RV Site Policies
Cancellation/Refund Policy
Payment in full is due at the time of booking.
Reservations are Non-Transferable. Refunds can only be refunded to original payment method.
New Reservation Date changes must be made at least 7 days in advance of any future reservations.

Cancellation Requests must be submitted by email to .
Processing and Reservation Fees are Non-Refundable.
If I Cancel...
Do I Receive a Refund or a Credit?
More than 10 Days before Check In Day
$10.00 Cancellation Fee then Refund
10 Days or Less Before My Stay
First Night Stay
24 hours or Less Before My Stay
Or
1 Week Before Special Event Weekends (Roots, Blues, & BBQ, Monster Mash, Mizzou Graduation Weekend)
No Refund/No Credit – You will be charged for the full length of your reservation.
No Refunds or Credits given for:
No Calls, No Shows, Late Arrivals, Changes in Trip Routes or Dates resulting in "not being in the area again in the future", Unruly or Ejected Campers, Early Departures or unused days, outages, failure of equipment including car, trucks, or RV issues; necessary closures or upgrades of any park amenities, or discomforts of nature such as inclement weather, wet site conditions due to rain or snow, natural pests, or other naturally occurring conditions. Cancellations due to medical conditions or job loss are not exempt from this policy. Please be advised that the Park Management has no obligation to make special concessions for any guest or any situation under this policy.

Different rates may apply to any new dates and any rate difference must be paid at the time of reservation change. New Date changes must be made at least 7 days in advance of future reservation.
Check In / Check Out
Check in is at 1 PM CST and entitles you to your site until 12 PM the day after check in. Early check in is not permitted. The guests who paid for the site the night before you has paid for their site until noon. We will not ask a guest to leave so that you can check in early. If you will be arriving in the area early, please make arrangements until your site opens up at noon. We do not have a waiting area for those checking in early. Check out time is 12 PM. You do not need to contact the office for check out, unless you need to pay for an after-hours check in.
Site Changes
You have been assigned a specific site, if you wish to move please check with the office. Due to reservations and maintenance, moving may not be possible. Please inquire before moving sites. You may pay a site lock fee to lock in your specific site if it is available at the time of booking. Please note that unexpected maintenance may affect our ability to guarantee a site and therefore if we are unable to honor the site lock, we will refund your site lock fee.
Fire Pits / Fire Rules
Open fires are not allowed in our park. Fires must be in firepits or designated fire rings. We have portable fire pits available for guests to rent for the night. Firepit rental is available for a fee and you must place the fire pit over the gravel or concrete, so that the heat from it does not damage the grass.
Parking
Please do not park your vehicle, trailer, or boat in an adjacent site. Use of more than one site will result in additional charges and/or potential towing. Only 1 Vehicle is allowed per site.
Storage
Storage is not allowed under or around your RV or picnic table. Storage sheds are not permitted.
Site and Park Navigation
Please be respectful of your neighbor and do not walk between sites when navigating the park. Please use main roads, sidewalks, and designated public paths to walk around the campground.
Washing
Washing RVs or vehicles is only permitted with 1 bucket of water and a sponge. Hose washing is not permitted, as it can result in a mess and disturb your neighbors.
Rugs
Rugs bigger than 3' x 2' are not allowed as it kills the grass and we want your site to look good for both you and the next guest.
Pet Policies
Leashes
We ask that you keep your pets on a leash at all times. This helps you, your pet, and other guests and other guests' pets stay safe.
Buildings and Pool Area
Pets are not allowed in the buildings. County code laws do not allow pets in our building or pool area. Please do not tie your pet to our trees, doors, or posts. Pets are also not allowed on our playground.
Cleaning Up After Your Pet
Be a good neighbor and please use the dog walk area and clean up after your pet always. Do not let your pet deposit waste on your site or any of our other guests' sites please. Failure to clean up after your pet will result in you being asked to leave without a refund.
Leaving Pets Unattended
Pets may not be left unattended in our park. Please do not tie your pet to a tree and leave. Leaving your pets unattended is dangerous for your pet as many factors including weather, power outages, etc. can affect your pets well-being while you are away.
Pet Vaccinations
Due to Insurance Requirements, all pets must be vaccinated in our park. Please make sure your pet's shots are up-to-date.
Barking
Excessive barking is not tolerated and disturbs your neighbors. Please note that excessive barking may result in you being asked to leave without refund.
Vehicle Policies
Speed Limit
The park speed limit is 5 mph. This policy is to keep you, your children, and your pets safe. Exceeding this speed limit will result in a warning. Multiple warnings will require us to ask you to leave. Safety is our number one priority for our guests.
Parking
Each paid guest registration covers 1 RV per site and 1 vehicle per site unless noted. Extra vehicles will need to be parked in additional parking spots behind our building or fence. Please do not park on our grass. Ruts caused in your site due to additional vehicles will result in damage charges.

Trailers, Boats, and additional vehicles will cost additional fees for camping. A nightly registration covers 1 RV and 1 vehicle only.

No parking in common areas. Do not park in the middle of the road. Do not park in sites that you did not register for and do not block our garages or our bathroom and laundry room doors. Parking on the grass is not permitted at RV Sites or in tent areas.
ATVs, Dirt Bikes, Motorcycles and Golf Carts
Dirt Bikes, ATVS, Motorcycles, trikes, and gas-powered golf carts are not permitted for use in our park. Electric Golf Carts may be used, but your site number must be posted on the front and back in 3 inch or larger letters. Additional fees for golf cart use may apply due to electrical usage.
General Park Policies
Severe Weather
In case of severe weather, seek shelter in the bathrooms or the laundry room. Signs for shelter areas are posted. We love pets, so please bring them with you and please do not leave them in your RV during severe weather warnings.
Visitors
Only registered guests are permitted to enter the park. All visitors must stop in the office to register, pay a fee and receive a parking pass. Visitors may not bring pets. Cottonwoods RV Park reserves the right to limit the number of people visiting a site. Day visitors must depart by 10:00 pm CST. Overnight visitors must depart by Noon CST. Please check with the office before inviting any visitors. Registered guests are responsible for ensuring their visitors are properly registered and that all campground rules are followed.

All guest visiting someone in the park must register and pick up a pass at the office and park in the designated area. Vehicle Pass must be visible at all times please.
Electrical Use
You are responsible for understanding how many amps you are using in our RV. Amp usage over the 50 AMPs provided can trip your breaker. Please be mindful of your amp usage, so that you don't trip your breaker during your stay.

Please notify the office so that we can notify maintenance if you have any electrical issues during your stay. Guests are not permitted to diagnose our electrical pedestals per insurance and safety requirements. Maintenance is happy to help. Even if you are an electrician, laws prohibit you from working on our pedestals unless hired to do so.

Don's Blow Your Breaker!
It is surprising how fast the amps add up that cause the breaker to trip. Knowing what can be run will prevent that inconvenient "MY POWER WENT OUT" telephone call. You can see how fast these things add up, so the next time you find yourself without power, check your breaker and take a quick inventory of just how many amps you're using. You may be surprised.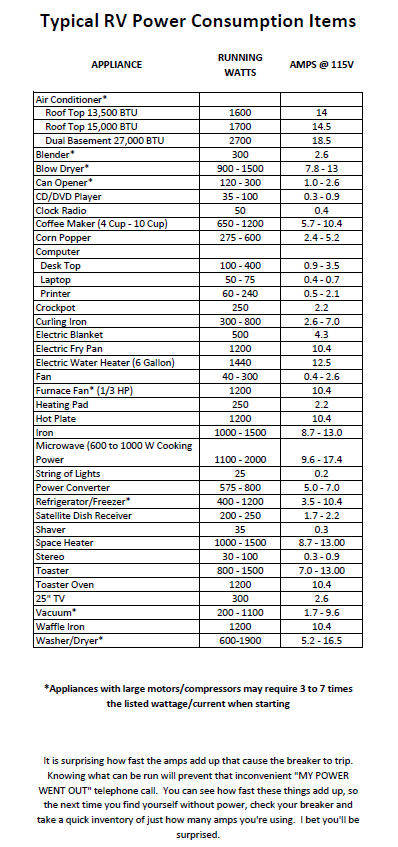 Laundry
The laundry room is open 24/7. Change available. Please do not leave your laundry unattended. We are not responsible for accidents or theft.
Restrooms
For the comfort of all our guests, restrooms are open 24/7 with exception of a temporary closing for cleaning once per day. We ask for your help in keeping the restrooms clean, please. Guest under the age of 18 need adult supervision in the bathrooms and showers as well as the pool area. Restrooms are coded and the codes are required for entry. These codes are provided to you at check in.
Pool & Playground
No lifeguard is on duty. Pool and Playground opens at 9 am after quiet time and closes at dusk. Anyone under 18 must be supervised in these areas and all areas of the campground at all times. Horseplay, running, and diving is not permitted in our pool area. Alcohol and Food is not permitted inside the pool itself. Loud music, glass, and rough play are not permitted at our pool or playground. Failure to follow these rules result in you being asked to leave without refund. Children in diapers are not allowed in our pool. Only swimming suits and swimming trunks permitted in our pool, no cut offs. Please do not let your children climb our trees, as it damages them.
Quiet Time Policies
Quiet time is 10 PM to 7 AM. Anyone playing loud music will be warned only once and then asked to leave without a refund.
Flags / Signage
We aim for our campground to be a relaxation zone, therefore political or offensive signs, banners, relics, items, or flags are not permitted in our park. It's important to us for our campground to be a welcoming environment for all guests. We do promote and encourage that you fly the American Flag however.
Trash Disposal and Recycling
A dumpster is available on the east side of the park. Please do not dispose of any motor oil, cooking oil, wires, furniture, mattresses, or any toxic or hazardous waste items. Failure to adhere to this rule may result in charges for disposal fees. Please do not place your trash on the ground. Woodland creates like possums and racoons are attracted to left out or disposed of food and while we think they are cute and wonderful animals, we don't want you to find a surprise night visiting racoon at your site because of incorrectly disposed of trash! Do not dispose of wires, oil, furniture, mattresses, or any toxic waste or chemicals in our trash cans. Trash is emptied once per day. Times may vary due to maintenance scheduling requirements throughout the day.

If you are recycling, we currently recycle cardboard and aluminum. Please bring any recycling items to our store or garage for drop off. Thank you so much for helping us take care of the environment!

Any Trash including Cigarette Butts left behind at your site will incur a $25.00 clean up fee for the additional time our staff will have to devote away from other tasks to clean up any messes left behind.
Children
Children under 18 must be supervised by an adult at all times. Horseplay, running, or diving in the pool is not permitted. Riding bicycles without a parent and on our main entrance road is prohibited for the safety of your children and our incoming RV guests. The playground, basketball court, and pool close at dark. Anyone under the age of 18 must be back at their site by dusk. Children may not use the restrooms without being accompanied by a parent or guardian.
Drones
Drones are not permitted in our park. Please do not fly drones over people or RVs. There are several local area parks where drones are permitted for your enjoyment.
Clotheslines
Clotheslines are not permitted in our park.
Fireworks and Firearms
Fireworks and firearms are strictly prohibited in our park. The prohibiting of fireworks includes sparklers, smoke bombs, aerials, and firecrackers. The prohibiting of firearms includes all guns including air soft, BB, and pellet guns. If these items are seen outside of your RV, you will be asked to leave immediately without a refund.
Repairs
Repairs to RVs and vehicles are not permitted in our park. We are happy to recommend a local Mobile RV Repair service that comes out to your site to assist you with any repairs.