Our Plan It Green Environmentally Friendly Park Practices
We believe the environment is important to the future of all. Every green initiative that we can take will benefit our guests, our community, and the future of our planet. This is extremely important to us and we are looking forward to continuing to utilize the following environmentally-friendly practices, as well as adding more green actions as the future progresses. By utilizing these green-friendly practices, we keep costs down for our guests, we keep our park clean, and our environment clean in an earth-friendly way. We look forward to working with you to continue to create a cleaner and healthier planet!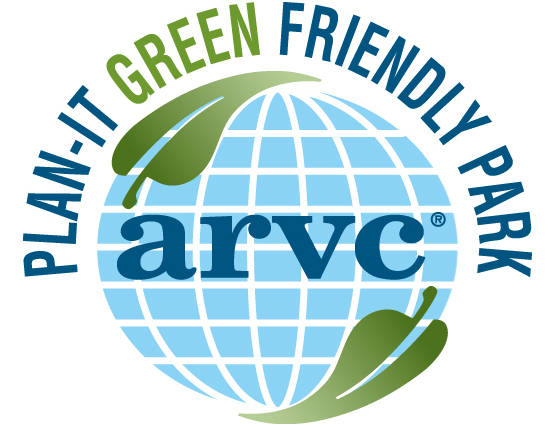 How we work towards sustainability and green friendly Park Goals:
We use energy-saving products and appliances. Our appliances are Energy Star Rated and we utilize Peak Energy Savers to recycle and use unused kwh.
We use motion activated and dusk to dawn lights to conserve energy.
We use LEDs and energy star rated lighting products to be more energy friendly.
We utilize solar power on several of our outside lights and decorations.
Our staff uses many biodegradable and environmentally-friendly cleaning products to clean the park facilities.
We utilize mulch around our trees and flowers to help keep them cool and moist which helps reduce water usage during the warm summer months.
We use post-consumer recycled products during our social events and on a daily basis. We utilize recycled cups, napkins, paper towels, etc.
When our shelf products reach their sell by date, at the request of the local Food Pantries we donate our perishable food products that are safe for consumption to the local food pantries.
Our park utilize water-saving showerheads to assist with water conservation.
We collect and recycle aluminum and cardboard products in our garages (we are working on a parkwide collection system, but for the time being please bring any cardboard or aluminum cans to us in our garages and we are happy to recycle both items!)
We recycle hazardous waste materials such as paint, oils, automotive products, etc by taking them to our city-wide monthly Hazardous Waste Drop Off each month March through November.
We donate gently used items to Good Will for charity.
We sell environmentally-friendly products in our gift shop: Environmentally Friendly Cleaning Supplies, Bug Sprays, Toilet Tissue, etc.
E-Confirmations for Reservations reduces paper usage and postage and printing costs.
2019 Goals for Environmental Practices at Cottonwoods RV Park:
Install more solar power options around our tent camping area.
Utilize more solar power decorative lighting for social events and park green areas.
Install Energy Conserving Shower heads in the remaining showers that need them.
Install 4 Rain Barrels to catch rain water for watering.
Install Recycling Bins within the park.
E-Receipts and Signatures saving a large portion of paper and helping the trees in our environment.
Long Term Environmentally Friendly Goals:
Add more recycling bins.
Solar Power on the Pool
Solar Power in Maintenance Building
Solar Power on Main Building
Continued Utilization of Rain Barrels